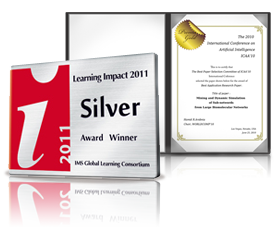 In Korea, the current incarnation of E-Learning may have only been around for 10 or so years, but with rapid advancements made on hardware and network infrastructure, coupled with tireless efforts made by the personnel involved, Korea's E-Learning has now reached the level reserved for the top tier establishments in the world.
With this growth in place, our country has engaged in conducting joint researches with other global e-learning-related firms and universities on standardization of e-learning by utilizing their respective technologies, and the biggest consortium today of its kind is
the

IMS Global Learning Corsortium

, hereby referred to as IMS GLC.


Members of the consortium includes corporates such as Microsoft, Oracle, and Blackboard; open project groups such as Sakai; esteemed universities such as University of Michigan and Columbia University; and government institutions such as KERIS, and it holds 180+ institutions as members in total, with our university also included.

IMS GLC holds 20+ research project groups, with each group consisting of participants from each nation jointly conducting research, and the outcome of the researches are used as important elements in establishing standards for each E-Learning system.

And every May, this consortium holds the IMS Learning Impact Awards to commemorate and recognize the most impactful applications of technology and scholastic effects, be it a product or a service, in the world. It is the only competition of its kind that takes on applicants from the whole world.

Back in May of 2011, the Awards took place in Long Beach, California, with 29 services/products from 13 countries vying for the awards. It was here that Seoul Cyber University won the silver awards with its SCU Learning WAVE.

It was the first award won by a Korean university of its kind, and the fact that it was a system, and not a service, that won the award spoke volumes of the enhancement of status not only for the Korean universities, but in Korea's E-Learning technology in the world. But we can't stop now.


Just taking glance at this year's applicants, one will be shocked with amusement over how far the E-Learning technology has come. Of course, the fundamental goal for all this is to improve your E-Learning studies, as well as enhancing the social status of E-Learning.

The only way to break the underlying concern that E-Learning is not an effective form of education as a standalone service is to prove that E-Learning has the potential to outgrow the current watch-and-learn system it employs and provide the kind of quality education that even offline education is currently unable to achieve.
With our university at the forefront.